About Us


The goal of the Five Counties Salmonid Conservation Program (5C) is to seek opportunities to contribute to the long-term recovery of salmon and steelhead in Northern California. 5C is a project of the Northwest California Resource Conservation & Development Council.
Governance
The 5C is a program of the Northwest California RC&D Council. Direction is guided by the 5C Executive Committee, which is comprised of one or two Board of Supervisors from each member county along with the Council President. The Executive Committee makes recommendations to the Council about the 5C Program.
---
History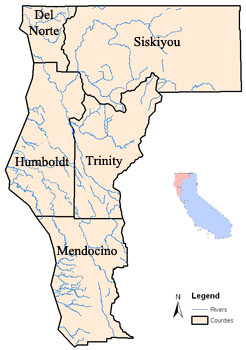 The five Northwestern California Counties of Del Norte, Humboldt, Mendocino, Trinity and Siskiyou have historically been a haven for salmonid species in Northern California. But salmonid populations dwindled and in response to the 1997 listing of the coho salmon as a threatened species, the Five Counties Salmonid Conservation Program was created. The Program was housed at Trinity County until 2009, when it transferred to the Northwest California Resource Conservation & Development Council, a 501c(3) non-profit.

Since 5C began work, 65 migration barriers have been improved from 1998-2013, restoring access to 146 miles of habitat; 2,455 miles of roadway have been inventoried for sediment sources and treatments; and, "A Water Quality and Stream Habitat Protection Manual for County Road Maintenance in Northwestern California Watersheds" (Roads Manual) has been written and implemented within the Program Area. The Roads Manual is considered a guide and framework for implementing improved road maintenance practices and has received ESA approval under the NMFS 4(d) rule.
Of the many 5C accomplishments, the commitment to working across political boundaries is perhaps the most valuable. County leaders and program managers clearly understand the value of long-term relationships forged internally and with State, Federal, and Local agencies. This forward-thinking Program understands that the future of County government requires meeting new challenges and reconciling the needs of natural resource conservation while preserving economic activities and setting the foundation upon which the next generation may build. 5C projects have received recognition for design innovations. The Program itself also received the 2003 Governor's Environmental and Ecomonic Leadership Award (GEELA).
---
Future Direction
The Program will continue to promote improved understanding and support for road-related conservation and restoration efforts by providing roads, salmon, and water quality workshops, fish passage engineering training, and planning and policy meetings for County and other agency staff. 5C is becoming more involved in land use planning and urban stream restoration efforts. By providing incentives to private landowners for maintaining riparian setbacks, as well as working with County Planning Departments to integrate specific protections into their general plans, habitat and water quality and quantity can be improved and conserved.
With the Program's transition from Trinity County to the Northwest CA RC&D Council, the 5C looks forward to expanding public-private partnerships in order to achieve conservation on a broader scale.
---
Program Funding
Since its inception, the Five Counties Salmonid Conservation Program has primarily been funded through grants, with in-kind matching funds coming from the individual counties. This website would not have been possible without the support of the Fisheries Restoration Grant Program administered by the CA Department of Fish & Game. 5C has been fortunate to work with various agencies and organizations dedicated to the restoration of salmonid habitat in Northwestern California. We would like to thank the following for their invaluable support:
---
5 Counties Salmonid Conservation Program
40 Horseshoe Lane/PO Box 2571
Weaverville, CA 96093-2571
Phone: (530) 623-3967
Mark Lancaster, Program Director
(530) 623-3967 x111

Sandra Perez, Program Manager
(530) 623-3967 x112

David Colbeck, Project Coordinator
(530) 623-3967 x113

Claire Lindstrand, Project Coordinator
(530) 623-3967 x115

Cindy Buxton, Resources Technican
(530) 623-3967 x115

Trish Wardrip, Accountant
(530) 623-3967 x117
---
Northwest CA RC&D Council/5C Board Officers
5C is a program of the:
Northwest California Resource Conservation & Development Council
40 Horseshoe Lane/PO Box 2183
Weaverville, CA 96093-2183
Phone: (530) 623-3967 x117
Ryan Sundberg
Council President

Patrick Truman
Council Vice President
(530) 623-0619

Gerry Hemmingsen
Council Secretary

Vacant
Council Treasurer
---
Heidi Kunstal
Director
Del Norte Community Development Department
(707) 464-7254

Jeff Daniels
Roads Superintendent
Del Norte Community Development Department
(707) 464-7238
Tom Mattson
Director, Humboldt County Public Works
(707) 445-7491

Art Reeve
Deputy Director of Roads, Humboldt County Public Works
(707) 445-7421

Kevin R. Hamblin
Director, Humboldt County Planning & Building Dept
707-445-7541
Howard Dashiell
Director, Mendocino County Department of Transportation
(707) 463-4363

Alex Straessle
Engineer, Mendocino County Department of Transportation
(707) 467-2542

Steve Dunnicliff
Director, Mendocino County Planning & Building Services
(707) 463-4281

Dennis Slota
Hydrologist, Mendocino County Water Agency
(707) 463-4589
Scott Waite
Director, Siskiyou County Public Works
(530) 842-8250

Greg Plucker
Deputy Director, Siskiyou County Planning Department
(530) 841-2100
Rick Tippett
Director, Trinity County Department of Transportation & Planning
(530) 623-1365

Andrew Pence
Engineer, Trinity County Department of Transportation
(530) 623-1365

Carson Anderson
Trinity County Planning Department
(530) 623-1351
---
Leaping Steelhead image at top of page courtesy of Jill K. Duffy, all rights reserved