5C Roads Maintenance Manual -
A Water Quality and Stream Habitat Protection Manual for County Road Maintenance in Northwestern California Watersheds"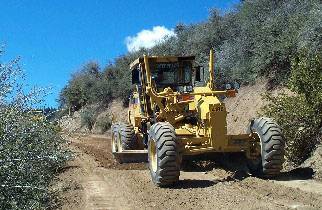 The purpose of the 5C Roads Maintenance manual is to provide a user-friendly, fish-friendly guide for county road maintenance staff. Once adopted by counties, this manual will provide a framework for the implementation of improved road maintenance practices.
Many rivers within the Five Counties area have been identified as sediment impaired under the Section 3(d) of the federal Clean Water Act. 5C recognized the need to access and reduce sediment associated with road management and has undertaken a series of long-term actions and commitments toward that goal. 5C plans to receive ESA approval for the manual and to integrate it into local TMDL implementation plans. The best available management practices (BMP's) are incorporated into the manual in order to minimize impacts of routine road maintenance on water quality and salmonid habitat. BMP's are associated with routine and emergency repair as well as maintenance of county roads, bridges, maintenance yards, snow and ice removal, spoils disposal, training, monitoring and reporting. In combination with road erosion inventories and sediment reduction projects, the manual represents 5C's long-term commitment to water quality.

The manual includes input from the CA Department of Fish and Wildlife Region I, the Northcoast Regional Water Quality Control Board (NCRWQCB) and the National Oceanic and Atmospheric Administration Fisheries Service (NOAA Fisheries, formerly National Marine Fisheries Service). The manual has been adopted by Del Norte, Humboldt, and Trinity Counties. It is the operating policy of the road departments within Mendocino and Siskiyou Counties. Periodic updates and revisions are anticipated based on feedback and monitoring.
National Marine Fisheries Service (NMFS) 4(d) Rule Submission & Approval Documents
Waiver of Waste discharge Requirements and General Water Quality Certification for County Road Management and Activities conducted Under the 5C Program (5C Waiver)
Overview from North Coast Regional Water Quality Control Board
Waiver: Order No. R1-2013-0004
Please Cont@ct us with feedback on the 5C Manual.
Download/View the 5C Roads Maintenance Manual:
Entire Roads Manual (Download PDF File 10,576 KB)
Roads Manual, Download by Chapters:
For more information, contact us