Roads Training Program and Resources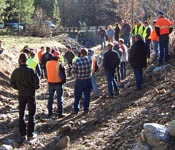 The 5C Program is actively involved in educating member counties in road maintenance & construction techniques that acheive transportation objectives while preserving water quality.
Ongoing workshops presented to road departments highlight the effectiveness of road treatments that enhance water quality and fish habitat. These educational presentations have fostered unity of procedure in the five counties area, insuring that road operations are planned based on watersheds, not county lines.
In addition, these publications & media were developed as educational tools for use by county road departments:
Rural Roads Educational Webinar Series
The 5C Program participated in the Rural Roads Educational Webinar Series organized by the University of CA Cooperative Extension and the Society of American Foresters 1900. Topics covered an overview of issues, design considerations and best management practices associated with rural roads in California. The webinar series was completed in September 2012, but is available for viewing online. For more information or to view the presentations, visit the Rural Roads Education Webinar website. You can download the presentation by 5C Program Director Mark Lancaster at http://ucanr.edu/sites/forestry/files/152298.pdf
Resources for Road Departments
For more information, contact us