Migration Barrier Inventory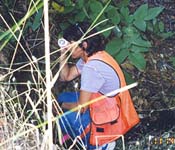 For decades, culverts on roads have effectively disrupted the spawning and rearing behavior of all four species of anadromous salmonids in California: Chinook salmon, Coho salmon, Coastal rainbow trout (steelhead are anadromous coastal rainbow trout), and Coastal cutthroat trout. Often extremely undersized, these culverts have prevented fish passage due to excessive heights between culvert outlets and plunge pools and/or impassably high flow velocities within the culverts themselves.

From 1998 - 2004, 5C inventoried migration barriers on County roads within each of the Five Counties. The inventory was completed by consulting biologist Ross Taylor of Ross Taylor and Associates using Fish Xing Software. A total of 245 migration barriers were identified on county roads. Updates to the inventory have since been made as needs arise and resources permit.

As barriers were identified in each county, they were ranked in an order from high to low priority, using site-specific information weighted heavily towards the biological considerations of targeted anadromous fish. Each barrier was assigned a score based on the following five parameters:
Anadromous species diversity within the stream reach at each crossing location
The extent of the barrier, or percent passable, generated with FishXing software
Habitat quality and quantity
Risk of culvert failure as related to sizing and flow capacity
Current condition of the crossing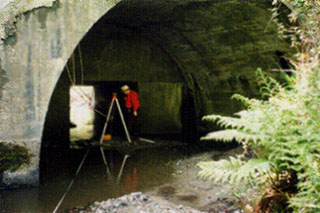 As each crossing was assigned an individual score, they were then entered into a Prioritized Ranking Matrix, providing us with a first-cut evaluation of high priority barriers at stream crossings. To facilitate basing conservation activities on watershed, rather than political, boundaries the master ranking matrix includes the barriers identified in all five of the counties. That list is also broken down by county for ease of implementation.
The ranking matrix is not intended to be an absolute list that decides exact prioritization or order of projects implemented. On a site-specific basis, many factors have been and will continue to influence the selection of projects. These factors include fish observations at crossings, amount of road fill that may potentially deliver to a stream should the culvert fail, the presence of other crossings and barriers along the same stream, project cost and available funding, schedule of other road maintenance and repair projects, and other factors impacting salmon and steelhead or project implementation. Based on this criteria, the 5C Program has completed 59 migration barrier removal/fish passage improvement projects, restoring access to over 137 miles of habitat
View our Power Point presentation on the 5C assessment process & findings presented at SERCAL Conference - May 21, 2010: Fisheries Restoration in the Five Counties Salmonid Conservation Program
Additional Migration Barrier Inventory Resources:
For more information, contact us.