Water Conservation - Saving Creeks Drop by Drop
Drought conditions are continuing throughout the state of California, and it is essential that everyone does their part to reduce excess water useage. The image below illustrates drought conditions as of March 2015. Click the images below or here for a link to the most current drought conditions in California. To learn more about the how the drought is affecting Trinity County, click here.
Water Conservation Tips
In Northwestern California, we are surrounded by water: lakes, rivers, streams, and reservoirs. The snowpack in our mountains is also an important form of water storage. Water resources & recreation are a part of our everyday experience. With a seemingly abundant supply of water, why is water conservation important?
Water removal from our local streams and other surface waters has increased in recent decades. Often, hot summer months and critically low flows are a time when the demands for water resources increases: washing cars, watering lawns, cooling down the livestock, playing with the kids in the sprinkler. Every time we turn on the faucet, drop by drop, the system gets drier.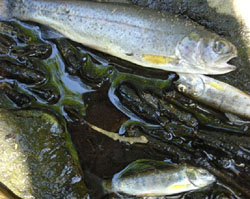 Fish and other aquatic species are extremely sensitive to variations in both temperature and stream flow. Salmon rely on clean, cool (between about 45 and 68 ºF), flowing water—especially when they lay their eggs. Cool water provides oxygen to salmon egg nests (called redds). Coho salmon is listed as a threatened species in our region. Fisheries continue to be an important aspect of our local history, culture, economy, and environment.
Please help support efforts to protect and conserve our precious natural resources by using water sparingly and adopting a few conservations techniques in your own home.
Saving water also saves energy and money. It takes a lot of energy to: extract water (from rivers & lakes); transport & purify it; heat it for home use; and treat wastewater.
A Few Easy Ways to Conserve Water at Home
In the Bathroom:
Replace showerheads with a water-efficient model
Get in the shower as soon as the water becomes warm enough
Take shorter showers
Save water by not running the faucet while shaving or brushing teeth
Place a bucket in the shower to catch falling water and use it to water plants
Replace old toilet with a high-efficiency toilet that uses 1.3 gallons per flush
Test toilets for leaks
Never use the toilet to dispose of trash
In the Kitchen
Run the dishwasher only when full. Consider installing a high-efficiency dishwasher
Install faucet aerators
Dry scrape dishes instead of rinsing
Use garbage disposals sparingly
In the Laundry room
Wash only full loads.
Use the lowest water level setting on the washing machine.
Use cold water as often as possible.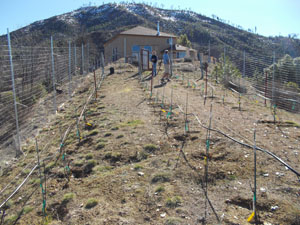 In the Garden
Apply mulch & compost.
Utilize mechanical timers.
Water early morning or late evening.
Don't water on windy days.
Use native plants, which tend to need less water, and drought tolerant landscaping
Click here to download "112 Tips for conserving water" to get even more great ideas.
Click to visit our page on trickle fill systems, water-saving landscaping techniques, or stormwater management.
Capture stormwater and use it for watering plants and more. Check out specific do-it-yourself and other handy information in the 5C's Stormwater Management Guidebook.
Rooftop Rainwater Capture for Irrigation & Household use
Stormwater (water from rain or snow events) can be efficiently managed by use of a rain catchment system and efficient landscaping techniques. A single rooftop with 1000 square feet collects over 600 gallons of water per inch of rainfall; this water can be conveniently stored for later use, either for irrigation, watering lawns, or even fire prevention. For tips that will save you money on your water bill and reduce water waste, visit our stormwater management page.
5C coordinated the installation of rainwater catchment demonstration projects in Weaverville at public facilities to provide effective rainwater capture, water use, and public demonstration and outreach. The goal is to increase awareness of the potential and benefits of these systems. (Read the article in 5C News for more information on proposed rainwater capture projects.)
But landowners in Trinity County are already using this conservation-minded strategy for their home and garden needs and have much to teach us. A rooftop catchment system (pictured above) in Lewiston, California is a prime example of water conservation at home. With an average annual rainfall of about 40 inches, the land owner combines storage tanks with innovative alternatives to capture over 40,000 gallons of water annually.
Initially, the system was constructed to mitigate storm water run off and erosion around the house. The design quickly turned into "strategic planning" as the owner used rain water collected to irrigate the new vineyards on the property. Once the vines were established, their water demands decreased, so the owner started an orchard. Now, he irrigates all the fruit trees, vineyards, gardens and landscaping during the summer with rainwater captured during the wet season. To date, this rooftop catchment system allows him to save money, decrease erosion, increase property value, and provide water resources to fight fire.
Additional Resources for Rooftop Rainwater Capture/Storage:
Please contact us for more information.
Drip Irrigation
Drip irrigation can provide substantial water savings over an overhead irrigation system. Additional benefits of drip systems can include more efficient fertilizer application, reduced weed growth, and reduced water runoff. To learn more about the pros and cons of setting up a drip irrigation system, use the links below for reference.
Greywater Reuse
"Greywater" refers to used water from your shower drain, sinks, and washing machine. In other words, any water that has not come into contact with feces. While greywater is not suitable for household use, it may serve as a valuable component of your yard irrigation. Greywater reuse not only saves water, but can also provide added nutritional benefits to your plants. For more information about setting up a Greywater reuse system, visit Greywater Action.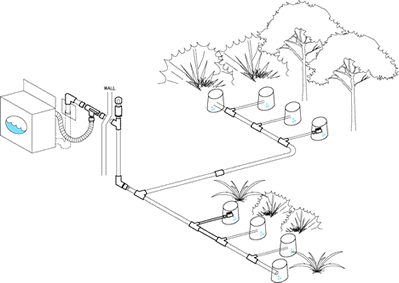 Resources for Additional Ideas & Information
Funding for this project comes from: California Environmental Protection Agency State Water Resources Control Board
Funding for this project has been provided in full or in part through an agreement with the State Water Resource Control Board. The contents of this document do not necessarily reflect the views and policies of the State Water Resources Control Board, nor does mention of the trade names or commercial products constitute endorsement or recommendation for use.
(Gov. Code. 7550; 40 CFR 31.20)

Funding support to create more user-friendly, detailed information in order to facilitate better water resources management and public awareness also was generously provided by the State of California Department of Water Resources (DWR), from the Safe Drinking Water, Water Quality and Supply, Flood Control, River and Coastal Protection Bond Act of 2006 via Humboldt County on behalf of the seven county North Coast Resource Partnership region under the North Cost Integrated Regional Water Management Plan (NCIRWMP) Proposition 84 Planning Grant.